Table of Content
If you're looking to add some flair to your feet, why not try out some creative toe nail designs? Pedicures offer a great opportunity to showcase your personality and playfulness through colors and artwork. While there may be less flexibility in terms of nail shapes and lengths compared to manicures, you can still make a statement with your toes. Whether you prefer abstract patterns, adorable summer themes, or artistic expressions, there's a wide range of toe nail designs to inspire you.
1.Abstract Colors Pedicure: Explore a mix of multiple colors and experiment with patterns to create unique and eye-catching designs. Play with angles and create mesmerizing effects.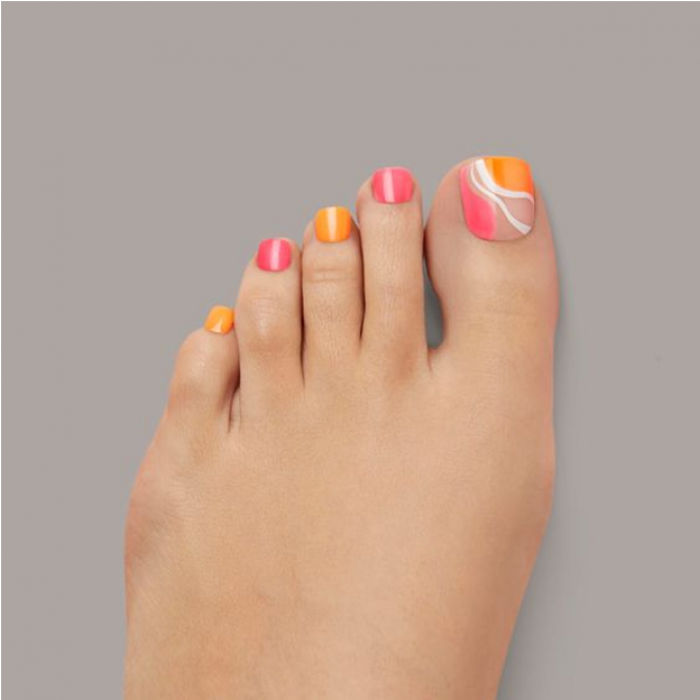 2. Adorable Summer Toe Nails: Embrace the spirit of summer with bright colors and joyful details that will bring a smile to your face. Think of beach-inspired motifs and vibrant hues.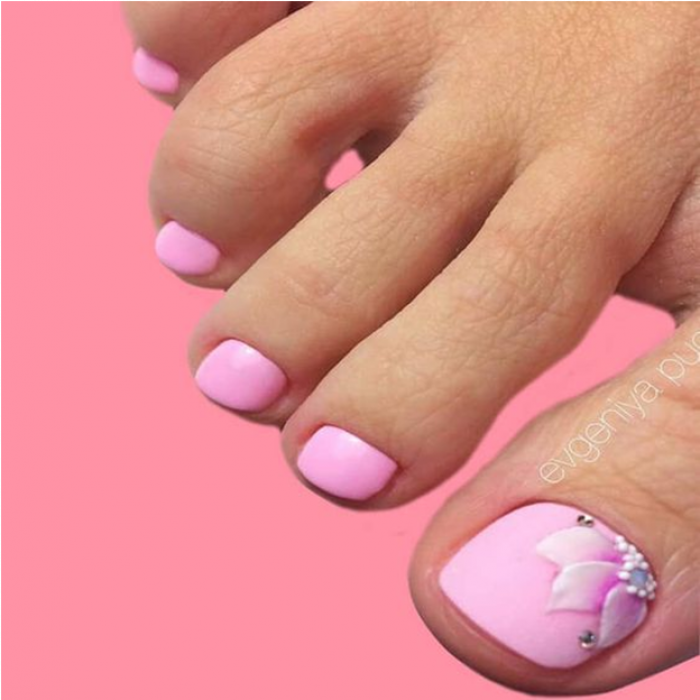 3.Arty Toe Nails: Let your creativity shine with arty toenails. This style allows for limitless possibilities, where you can experiment with different colors and patterns. Consider using a different color for each toenail to achieve a contrasting finish.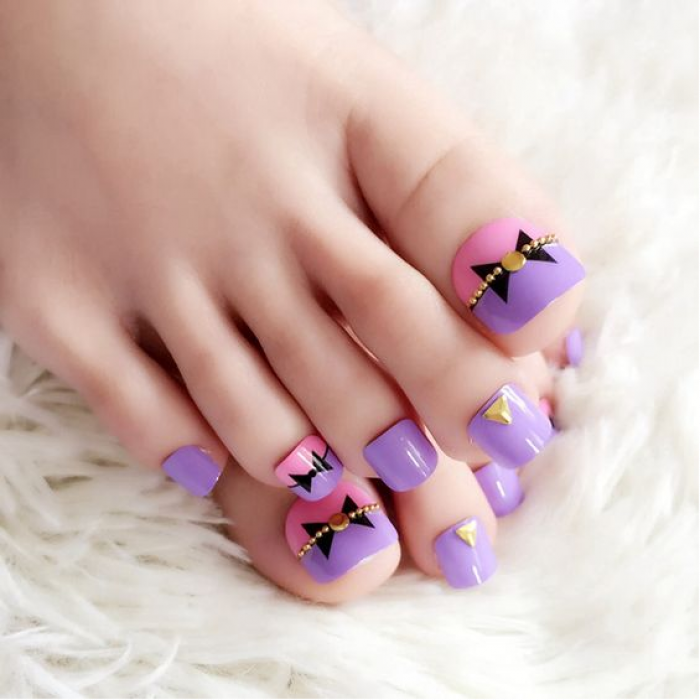 4.Baby Blue Toe Nail Design: Choose a soft, calming shade like baby blue for a soothing and universally flattering look. This color complements various skin tones and suits women of all ages.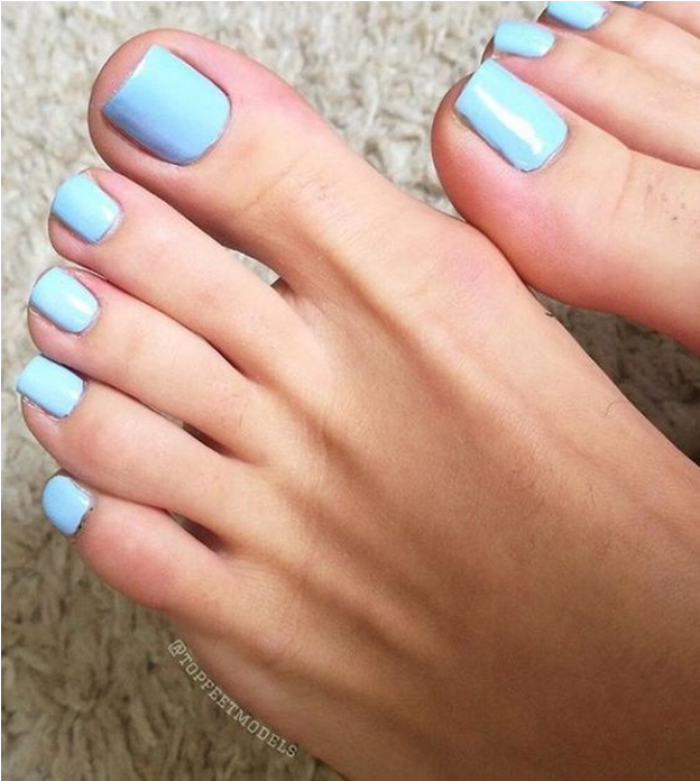 5.Bear Toe Nails: Channel your inner child and infuse cuteness into your pedicure by featuring your favorite bear characters. Opt for color combinations like soft pinks or rich brown hues to capture the charm.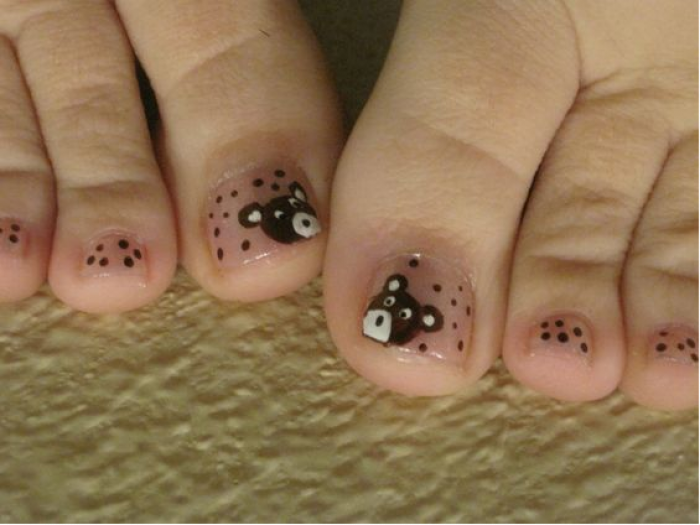 6.Black and White Love Heart Nail Design: Capture classic elegance with a black and white color scheme, designed in the shape of love hearts. This timeless combination pairs well with any outfit and demands attention.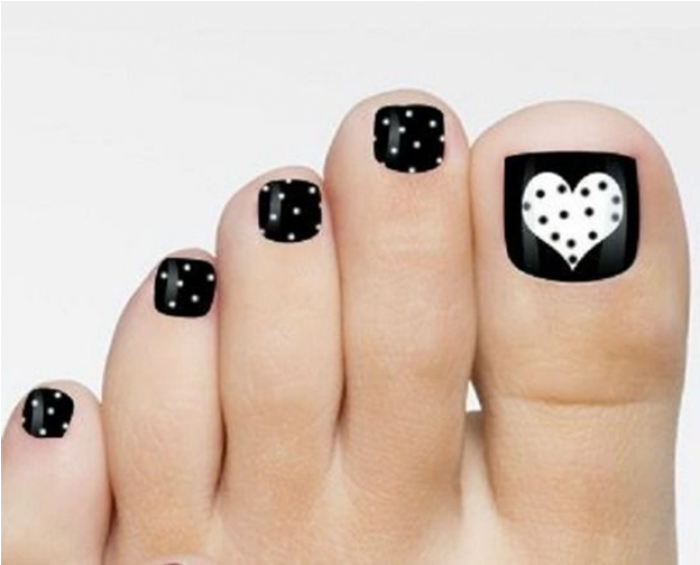 7.Black Chanel Logo Toenail Design: Showcase your appreciation for luxury and sophistication with the iconic Chanel logo on your toenails. Opt for a muted color scheme, such as black, to elevate the elegance.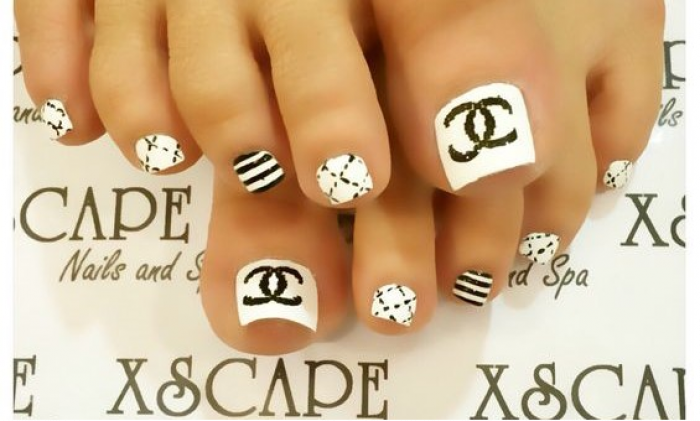 8.Black Glitter Toe Nails: Add a touch of sparkle to your pedicure with black glitter polish. This versatile and attention-grabbing choice pairs well with the boldness of black, creating a glamorous look.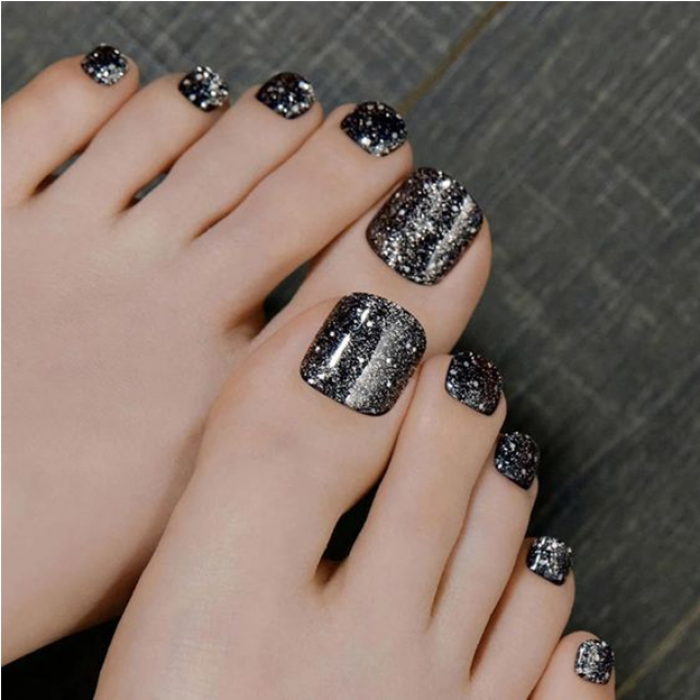 9.Blue Brown and Cream Pedicure: Explore a harmonious combination of blue, brown, and cream shades to create a subtle contrast. Whether through abstract designs or solid blocks of color, this combination will captivate attention.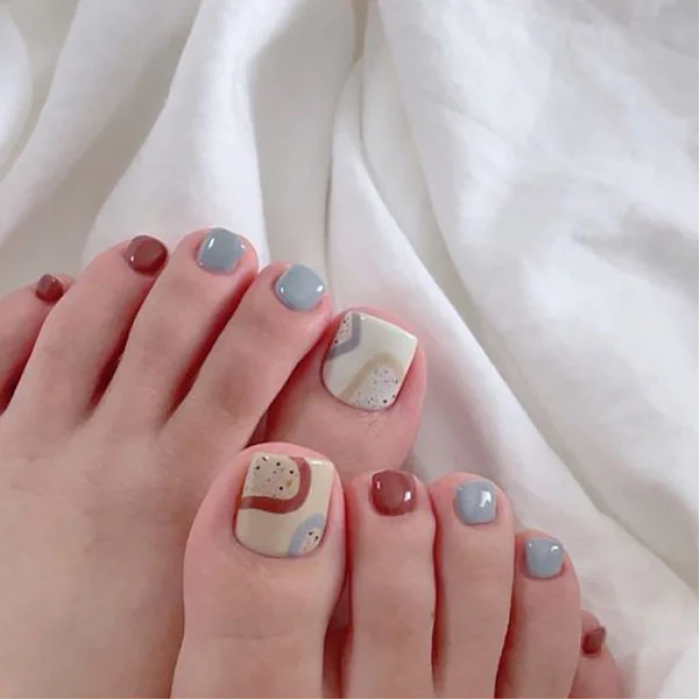 10.Butterfly Toe Nails: Let the beauty and symbolism of butterflies inspire your pedicure. Incorporate eye-catching and colorful designs that represent transformation, growth, and beauty, allowing your nails to make a subtle statement.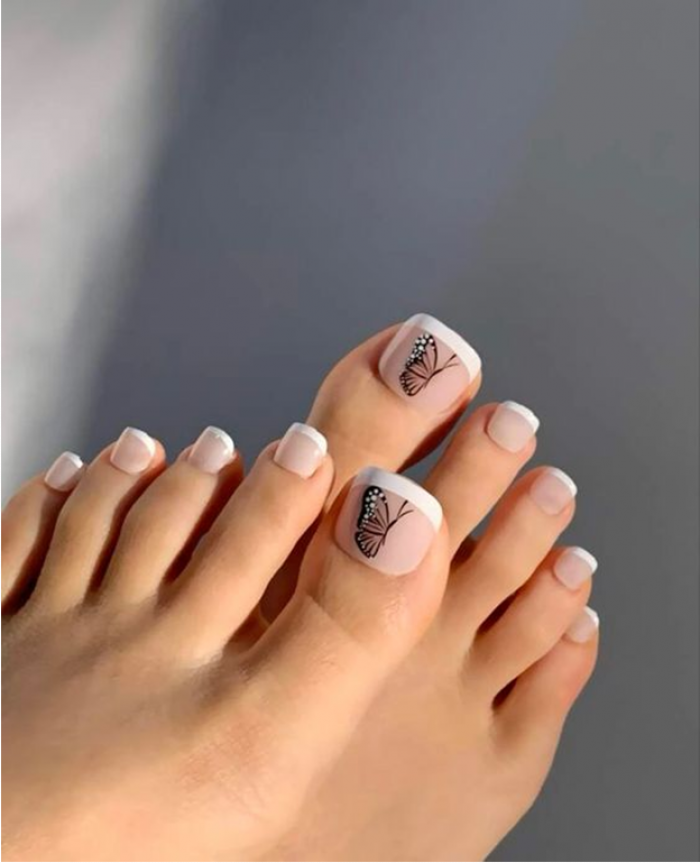 11.Cartoon Pedicure: Showcase your playful side with cartoon-inspired designs. Whether it's your favorite childhood characters or a mix of various cartoons, this style adds a cute and fun touch to your pedicure.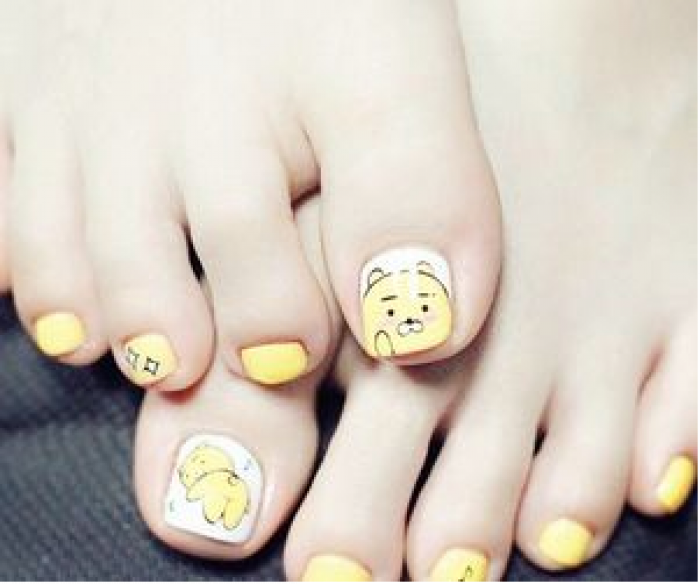 12. Cheesy Toe Nails: Embrace your love for cheese by incorporating cheesy designs into your pedicure. The warm and bright yellow-orange color combination adds a playful twist to your nails.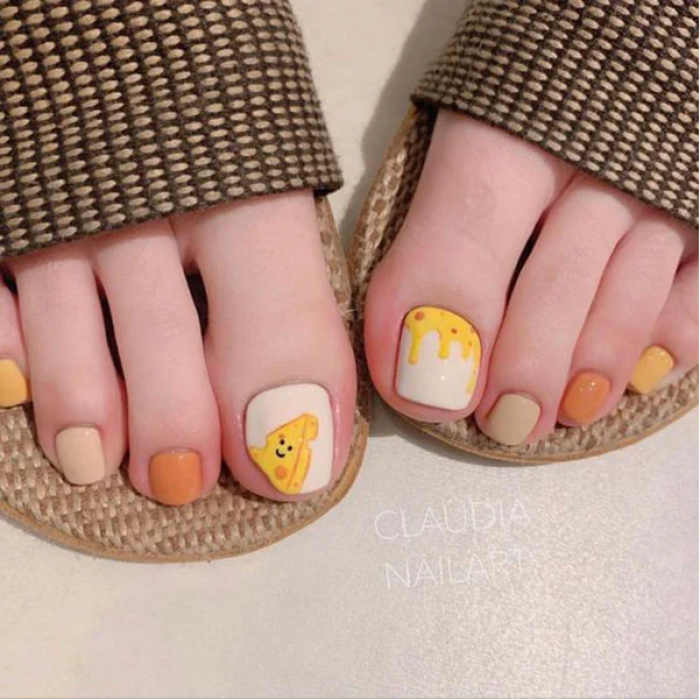 13. Cherry Toe Nails: Celebrate summer or embrace your femininity with cherry-inspired designs. Paint each toenail with cherries or focus on a single feature toenail for a subtle yet delightful finish.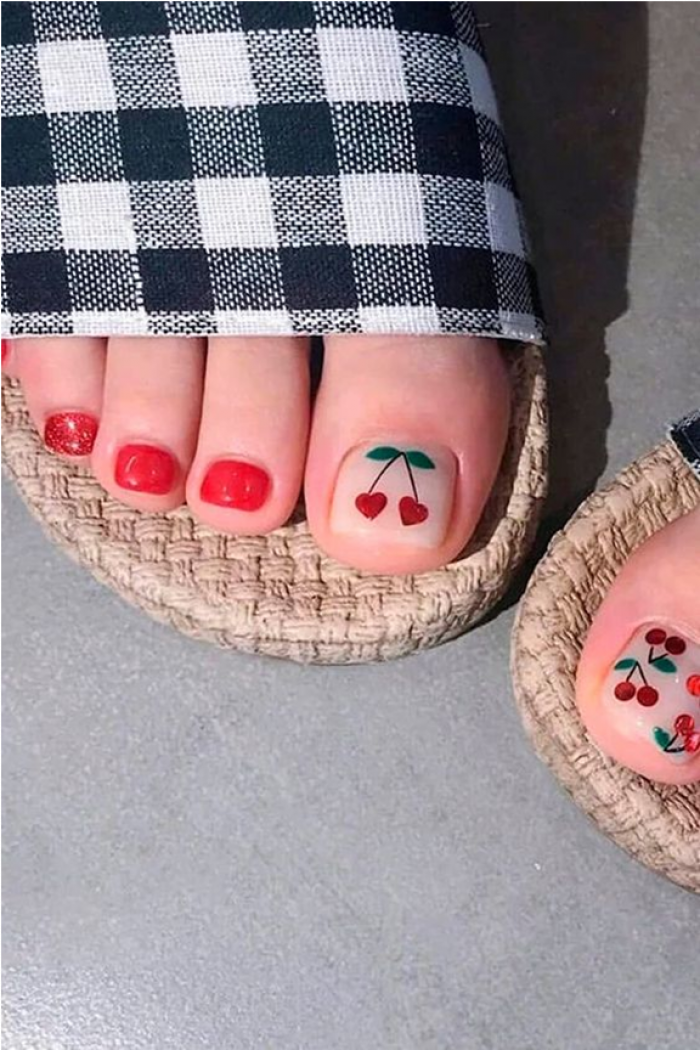 14.Christmas Toe Nails: Get into the holiday spirit by painting your toenails with festive designs. Opt for classic Christmas colors like red, white, and green, or incorporate snowflakes and candy canes for a cheerful touch.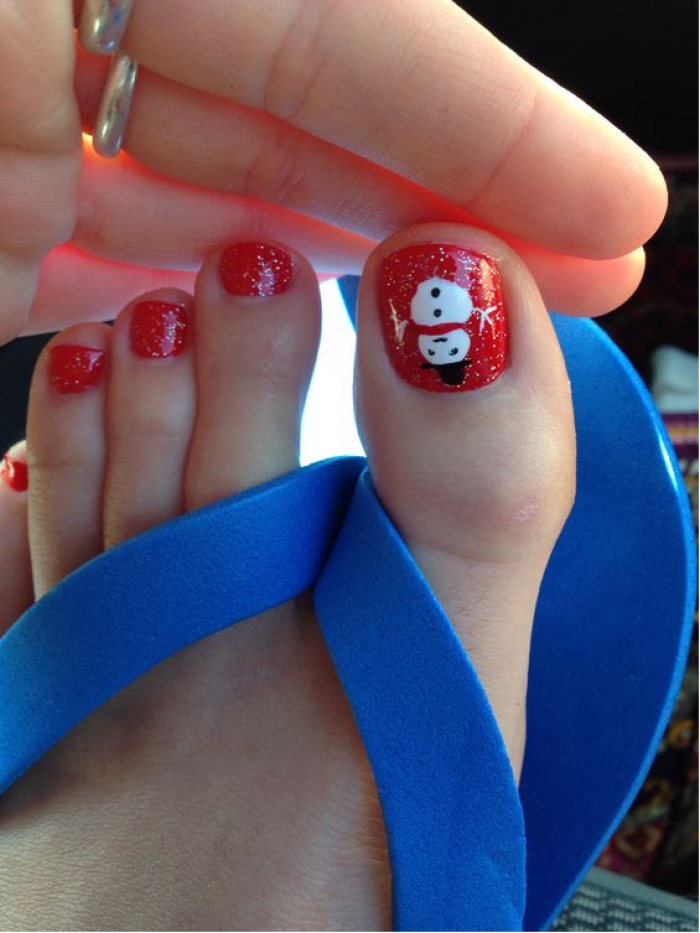 15. Clouds Pedicure: Create dreamy and ethereal looks with cloud-inspired nail designs. Experiment with colors like baby blue for the base and white clouds, or choose your favorite hues to achieve a whimsical and attention-grabbing pedicure.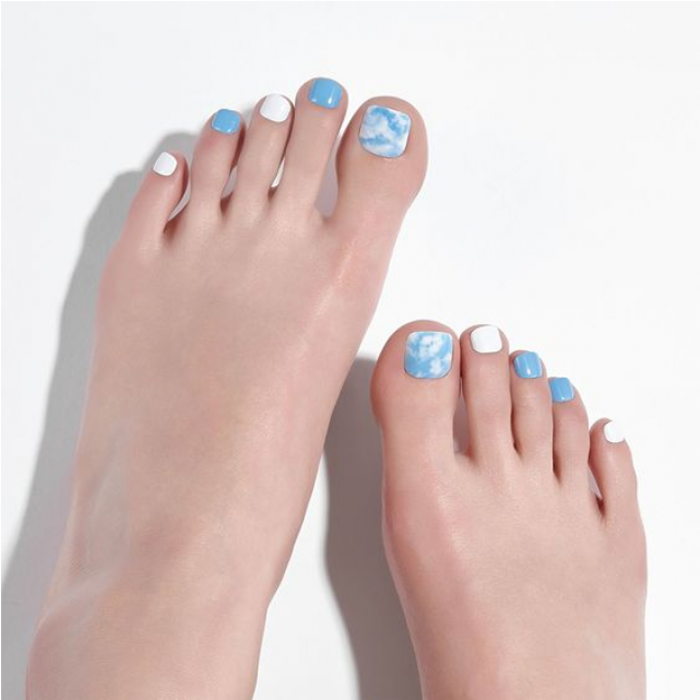 16. Geometric patterns : Abstract shapes and lines can create a modern and edgy look, while negative space designs, where portions of the nail are left bare, offer a unique and artistic touch. Animal prints are another trend that has taken the world of toe nail designs by storm. Leopard, zebra and snakeskin patterns can add a touch of the wild to your toes.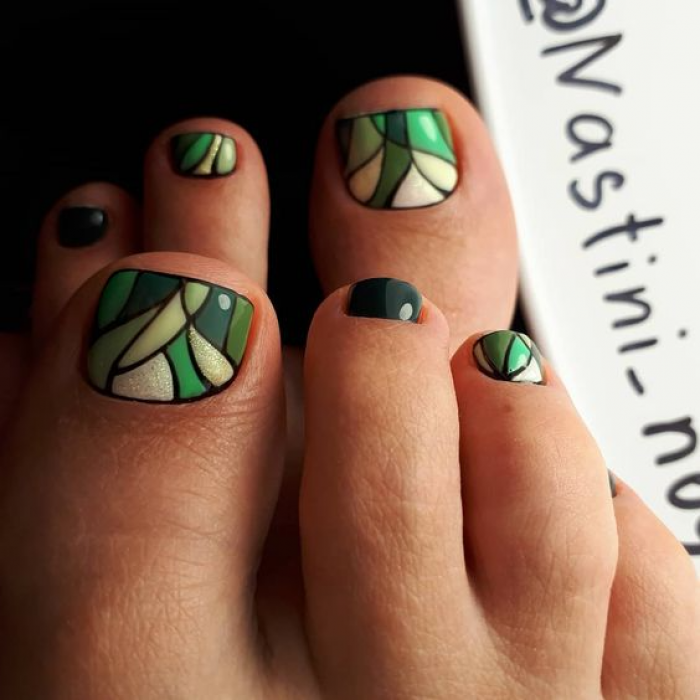 17. 3D embellishments are also a popular trend in toe nail designs. Gems, studs and rhinestones are adding texture and dimension to our nails, creating a unique and eye-catching look. Pastel colors are a softer, more feminine trend that can still make a statement. Shades of pale pink, lavender and mint green can create a fresh and delicate look.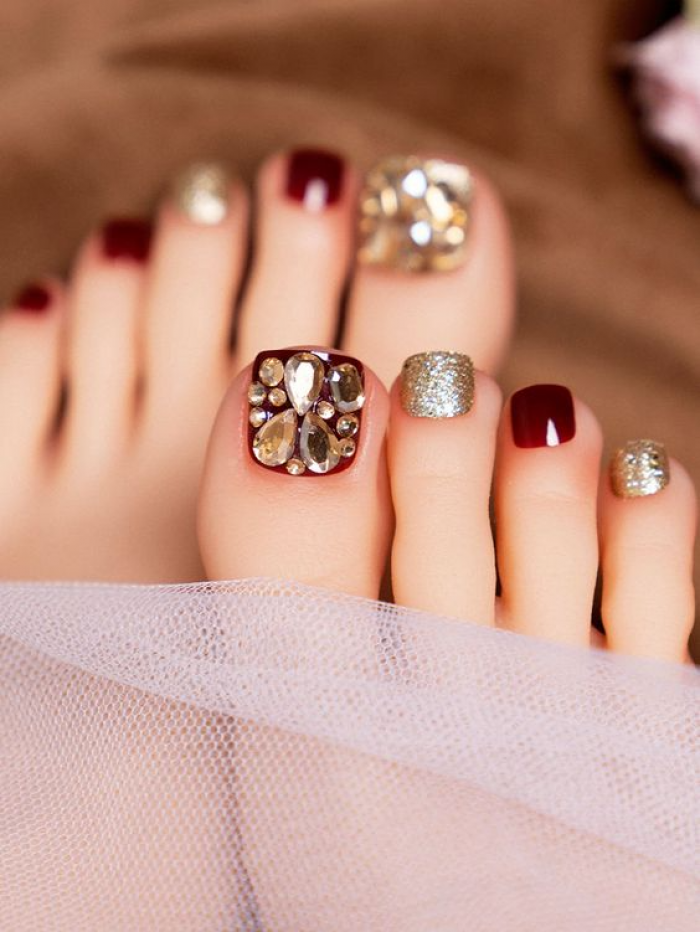 18. Mixing and matching designs on each toe is a fun and playful trend that allows for endless creativity. You can also create a seamless gradient effect by blending multiple colors together, adding depth and interest to your toe nail designs.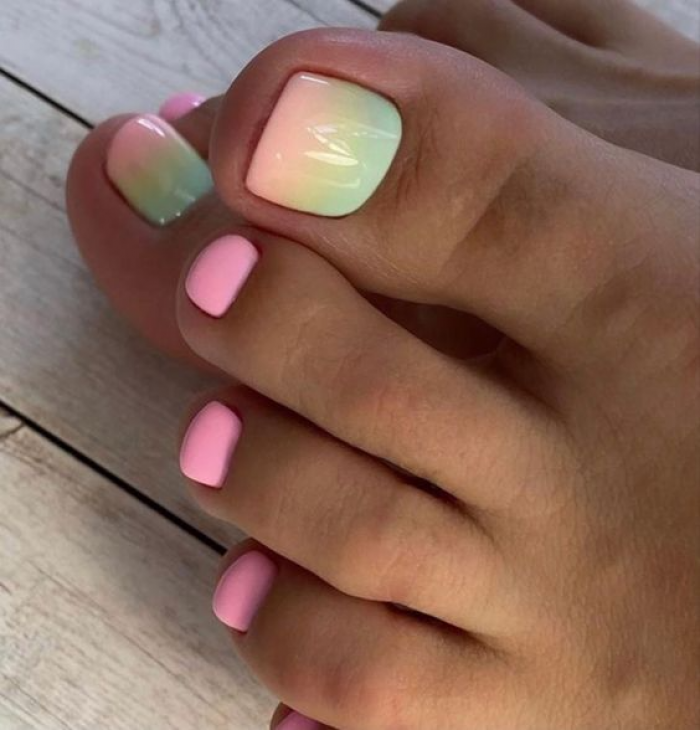 Metallic finishes is gaining popularity in toe nail designs. Shiny silver and gold tones are also adding a touch of glamour to any look, while glitter and sparkles are always a fun and festive option. Finally, ombre designs, where colors gradually fade into one another, create a chic and modern look that is both stylish and sophisticated.
There are countless ways to elevate your nail game and step out in style. Whether you prefer bold and statement-making designs or more understated and delicate looks, there is something for everyone in the world of toe nail art. When it comes to wedding day beauty, the details matter and that includes your toe nails. Either you're a bride, bridesmaid, or simply a guest, having your toe nails perfectly polished and designed can add an extra touch of elegance to the complete look.
Toe Nail Designs For Weddings
The most popular styles for toe nail designs for weddings is the classic French manicure. This is simple but sophisticated look features a white tip with a natural-looking base and complements any wedding dress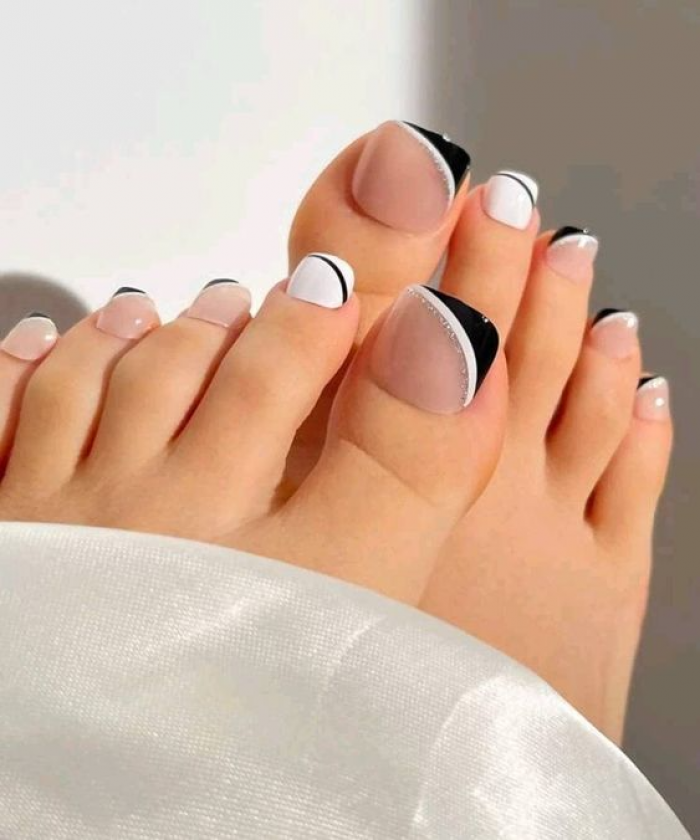 Delicate lace patterns, which create a romantic and feminine look perfect for a wedding.
You can add some floral accents to your toe nails, there are plenty of options available. From intricate flower designs to subtle floral patterns, adding some blooms to your toes can give your bridal look a whimsical touch. Likely using pearlescent shades like ivory, blush and champagne can add a subtle but sophisticated glow to your toes.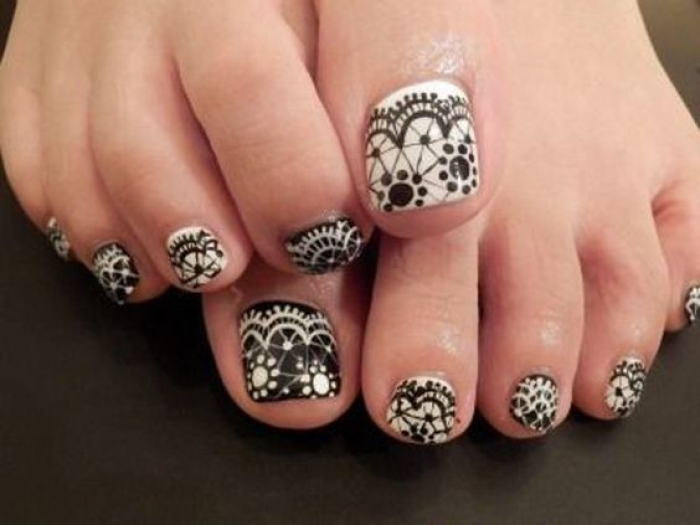 Giving some sparkle to their toes, glitter and gems can be a fun and celebratory option. Either you go for a subtle hint of shimmer or go out with full-on sparkle, this is a perfect way to give some festivity to your bridal look. Bold colors like deep reds and bright pinks can make a statement and add a playful touch.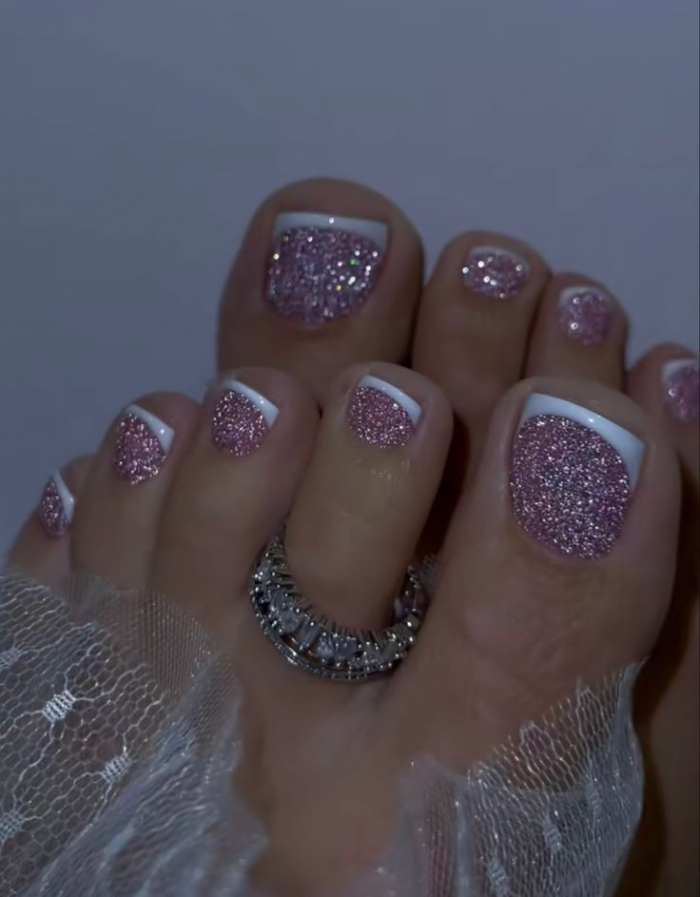 Ombre effect, gold foil, Swarovski crystals and metallic accents. Whatever your style, there are countless options available to make your toes look their best on your big day. So either you're walking down the aisle or dancing the night away at the reception, make sure your toe nails are perfectly polished and designed for the occasion.
Big toe nail designs
The big toe is the largest and most prominent toe, it often serves as the focal point for toe nail designs. There are many different options available for big toe nail designs, depending on personal preference and occasion.
Classic designs like the French manicure can be adapted for the big toe, with a white tip and natural-looking base. For a more playful and colorful look, big toe nail designs can incorporate bright and bold colors.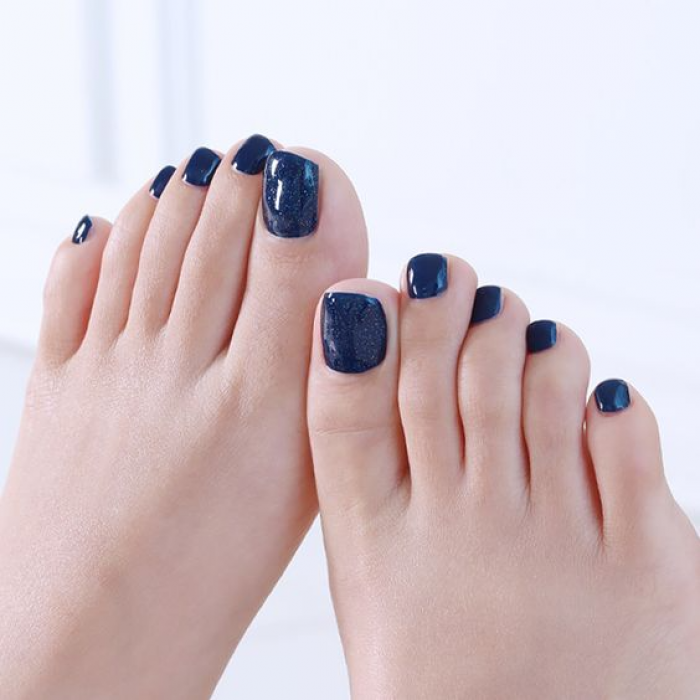 Ombre designs, which gradually fade from one color to another, are a popular choice, as are gradient effects. Their designs can also incorporate a variety of patterns and textures. For example, animal prints like leopard or zebra can create a fun and wild look. Negative space designs, which use the natural color of the nail as part of the design, can also be a trendy option.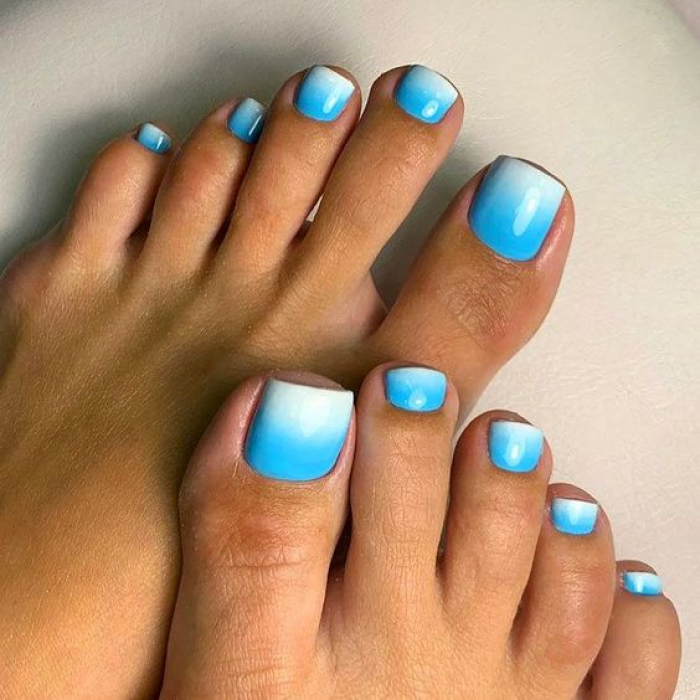 3D embellishments like rhinestones, beads, or studs can give texture to big toe nail designs. The possibilities for big toe nail designs are limited only by one's imagination and creativity. Whether for a special occasion or everyday wear, big toe nail designs can be a fun and expressive way to show off personal style and flair.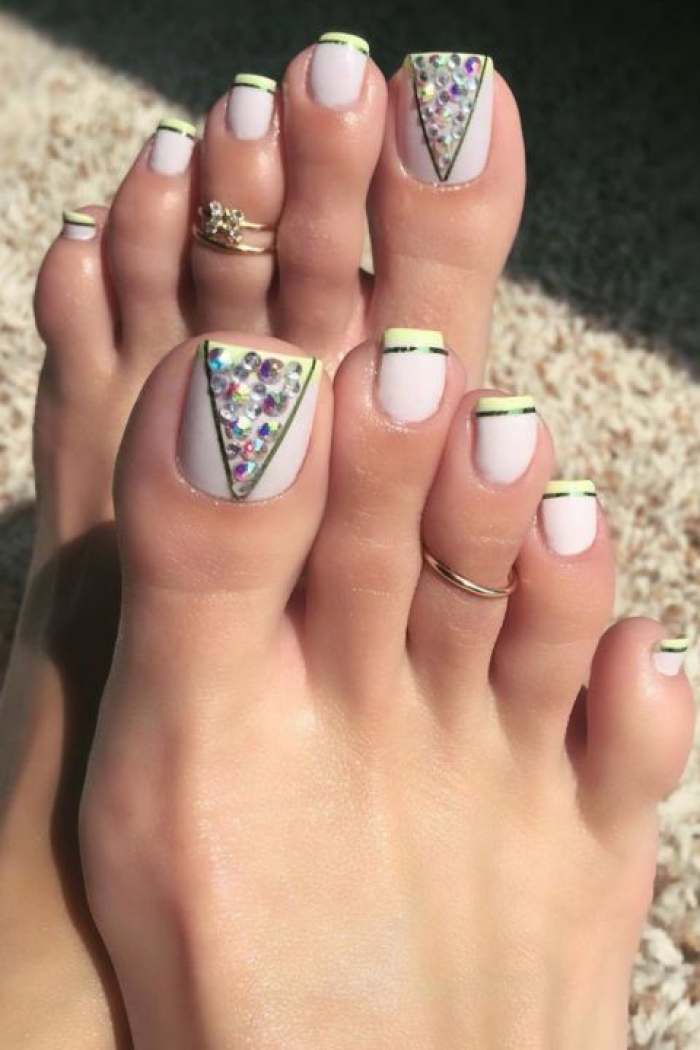 Toe Nail Designs French tip
French tip toe nail designs are a classic choice for anyone looking for a simple but elegant look for their toes. The style is characterized by a white tip on the nail with a natural-looking base, which creates a clean and polished appearance.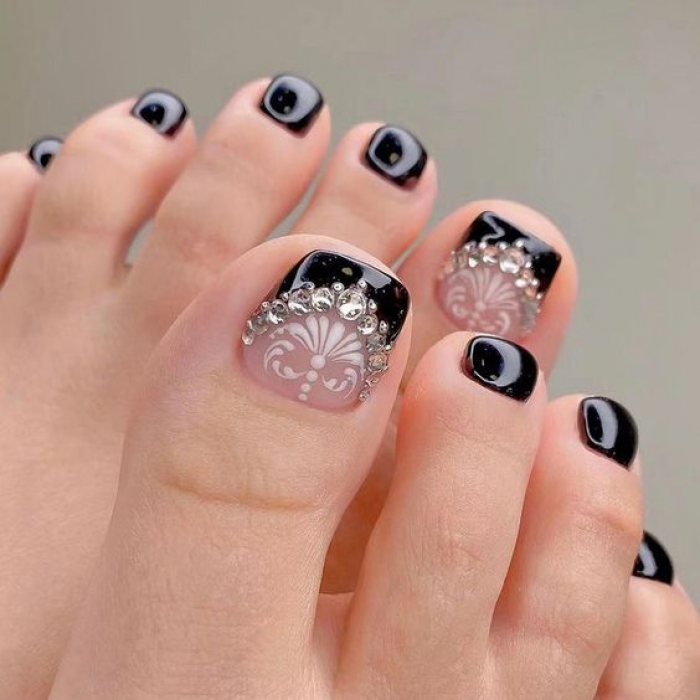 While the traditional French tip design is simple and understated, there are many variations and adaptations that can add interest and flair to the look. For example, adding a pop of color to the tip can create a modern and playful twist on the classic design. Glitter or metallic accents can also be added for some extra shine and glamour. These designs are a versatile and elegant choice for anyone looking for a simple but sophisticated look for their toes.