Table of Content
Winter is here, and it's time to bundle up in style. Hoodies are a versatile, comfortable, and effortlessly cool wardrobe staple for any fashion-conscious man. This article will explore ways to style men's hoodies this winter, ensuring you stay cozy and fashionable for any occasion.
Casual Cool:
The classic hoodie look is a timeless choice that exudes effortless style. It's all about selecting a well-fitted, solid-colored hoodie that complements your taste. This simple yet effective combination can be paired with your favorite jeans or chinos, offering comfort and a relaxed vibe.
A crucial aspect of mastering this style is choosing the right hoodie fit. A hoodie that fits well accentuates your physique without being too baggy or tight. It should hug your body comfortably, allowing you to move freely while maintaining a sleek silhouette. The classic hoodie look offers versatility from muted grays and blues for a subdued appearance to bold reds or blacks for a more daring statement.
Layer Up:
Layering your hoodie under a jacket is a clever way to add depth and warmth to your winter wardrobe. The type of jacket you choose can dramatically change your overall style. Opt for a leather jacket for a rugged, edgy appearance, or go for a bomber jacket to infuse a sporty vibe into your outfit. This combination keeps you toasty and allows you to express your unique style while staying on top of the winter chill.
When layering, ensure your hoodie isn't too bulky so it comfortably fits under the jacket. A hoodie with a zipper or button-up front is an excellent choice for easy layering. Depending on your preference, it also allows you to show off the hoodie design or keep it partially concealed.
Business Casual: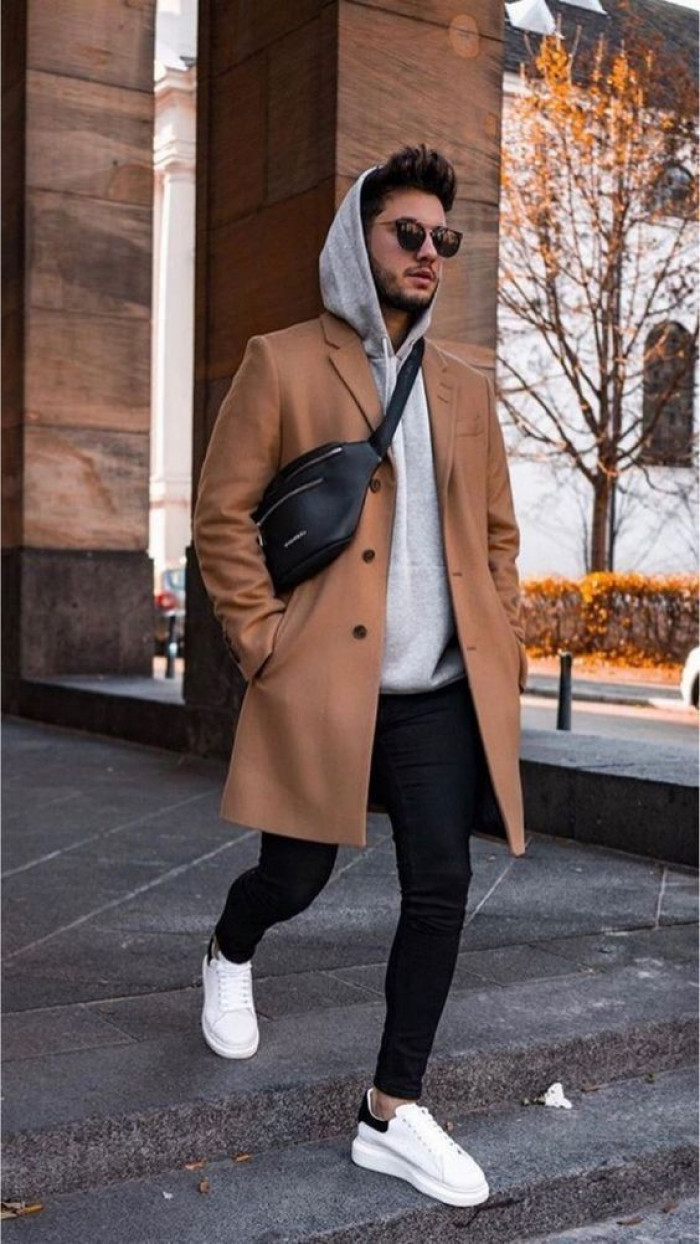 Believe it or not, hoodies can find their place in your workplace attire, provided that your office dress code allows it. To pull off the business casual look with a hoodie, select one that is well-tailored and comes in neutral colors. Pair it with well-fitted tailored trousers and dress shoes to strike the perfect balance between comfort and professionalism. This unconventional yet tasteful choice demonstrates your fashion-forward thinking without compromising your workplace demeanor. Keeping the overall ensemble clean and well-groomed is essential to create a polished appearance. This outfit is a conversation starter, allowing you to showcase your style and adaptability in professional settings that embrace modern fashion trends.
Athleisure Excellence:
Hoodies are not just for leisurely activities; they can also be your best companion on active days. Opt for a moisture-wicking, performance-oriented hoodie when hitting the gym or engaging in outdoor activities. Such hoodies are designed to keep you dry and comfortable, making them ideal for workouts. Athleisure, a blend of athletic and leisurewear, seamlessly combines functionality and style, allowing you to look and feel your best during physically demanding tasks.
When choosing an athleisure hoodie, consider fabric technology that promotes breathability and moisture management. This ensures you stay comfortable and dry even during intense exercise sessions. The hoodie should have a snug fit that doesn't restrict your movements, making it a practical choice for various activities, from jogging and cycling to yoga and weightlifting. Opt for understated colors and clean designs to maintain a stylish yet athletic look.
Dress It Up:
Surprisingly, a stylish hoodie can be your go-to choice for a night out. Invest in a more upscale hoodie crafted from quality materials to pull off this look. This elevated piece can be paired with dark jeans and boots, instantly transforming you into a sophisticated, fashion-forward individual. It's all about finding the right balance between comfort and trendiness for those evenings when you want to make a lasting impression.
When dressing up your hoodie, consider the material. Opt for high-quality fabrics like cashmere or merino wool to create an upscale appearance. These materials not only provide superior comfort but also elevate the overall aesthetics. Ensure the hoodie fits impeccably, enhancing your silhouette without any excess bulk. Accessorize with a stylish belt and a minimalist watch to complete the ensemble. This look effortlessly combines casual comfort with refined elegance, allowing you to stand out in a crowd while feeling at ease.
Accessorize:
Accessories are crucial in elevating your hoodie ensemble. Consider adding a beanie or a stylish scarf to your outfit to keep you warm and inject a touch of sophistication into your winter look. The choice of footwear is equally essential; select the perfect pair of sneakers or boots that complement your hoodie and overall style. Attention to these finer details can take your hoodie outfit from casual to captivating, showcasing your fashion sensibility and attention to detail.
Beanies and scarves are not just practical for keeping warm; they are also versatile fashion accessories. Choose colors and patterns that complement your hoodie and the overall color of your outfit. Regarding footwear, the right pair of sneakers or boots can tie your look together seamlessly. Sneakers offer a more casual and sporty vibe, while boots add a rugged elegance. The crucial aspect is to balance comfort and style, ensuring that your accessories harmonize with your hoodie and the occasion, whether a casual outing or a formal event.
Conclusion:
As winter settles in, the hoodie should be your go-to fashion item. From the classic casual look to dressing it up for an evening occasion, there are endless ways to style hoodies for men this winter. Remember to choose high-quality men's hoodies that suit your style well. You can stay warm, comfortable, and effortlessly stylish with the right combinations and accessories throughout the season. So, embrace the hoodie and make it your winter wardrobe essential.