Hey there, fashion lovers! Today, we're diving into a fun and practical topic: turning your everyday sneakers into elegant, stylish footwear. Sneakers are no longer just for the gym or casual outings. With a bit of creativity, they can be a fashionable choice for more upscale events too. In this blog, we'll explore some simple yet effective ways to dress up your sneakers for a more sophisticated look. Whether you're a sneakerhead or just looking for ways to spice up your shoe game, these tips will help you step up your style!
Why Most Sneakers are Not Best Suited for Elegant Events
Sneakers are often seen as the go-to footwear for casual wear, and there's a good reason for that. They're designed for comfort and practicality, not necessarily for elegance. Most sneakers come in designs and colors that scream 'relaxed and casual', which can make it tricky to pair them with more formal attire. However, the fashion world is always evolving, and sneakers are no exception. With the right approach, you can transform these comfy shoes into a stylish component of your elegant outfit.
How to Make Your Sneakers Elegant & Stylish
So, how do you take a pair of sneakers from casual to chic? It's all about the balance between comfort and style. The key is to choose sneakers that have a more understated design and pair them with the right clothes and accessories. Think minimalistic styles, neutral colors, and less chunky designs. These types of sneakers can easily blend with more sophisticated outfits, creating a stylish yet comfortable ensemble.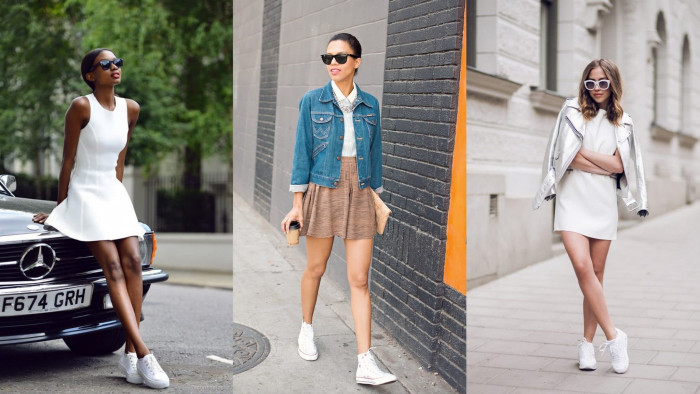 #1 Pair Them with Skirts
Pairing sneakers with skirts is a fantastic way to achieve a chic, yet relaxed look. For a more elegant style, opt for a midi or maxi skirt, which adds a touch of sophistication. This combination works wonders because it balances the casual nature of sneakers with the femininity of the skirt. Whether you're going for a pleated, A-line, or pencil skirt, your sneakers will add a fresh and modern twist to your outfit.
#2 Choose Classic Models
When aiming for elegance, it's best to stick with classic sneaker models. Think along the lines of simple white tennis shoes or timeless designs that have stood the test of time. These sneakers are usually less bulky and have cleaner lines, making them a perfect match for more formal attire. By choosing a classic model, you ensure your sneakers don't overpower your outfit but rather complement it.
#3 Accessories
Accessories can make or break your elegant sneaker look. The trick is to choose accessories that elevate your outfit. A chic handbag, a pair of stylish sunglasses, or a statement watch can all add a touch of sophistication to your sneaker ensemble. Remember, the goal is to create a harmonious balance, so avoid over-accessorizing. Just a few well-chosen pieces can do wonders in transforming your look.
#4 Keep Them Clean
This might seem obvious, but it's worth mentioning: keep your sneakers clean! Nothing ruins a stylish look faster than dirty or scuffed shoes. Regularly cleaning your sneakers shows that you care about your appearance and helps maintain that elegant vibe you're aiming for. It's not just about cleaning the shoe. You should also use crease protectors to make sure they always look flawless. Plus, well-maintained sneakers last longer, so it's a win-win!
#5 Wear Tailored Pants
Tailored pants are a great way to dress up your sneakers. They add a sharp, sophisticated edge to your outfit, making your sneakers appear more intentional and less like an afterthought. Whether you're wearing slim-fit trousers or a chic pair of chinos, pairing them with sneakers creates a modern, stylish look that's perfect for various occasions.
Summing It Up
Incorporating sneakers into your elegant wardrobe isn't as hard as it might seem. It's all about choosing the right sneakers and pairing them with the right pieces. Remember, fashion is all about expressing yourself, so don't be afraid to experiment with different styles and find what works best for you. With these tips, you'll be able to rock your sneakers at even the chicest events, combining comfort and style effortlessly. Happy styling!